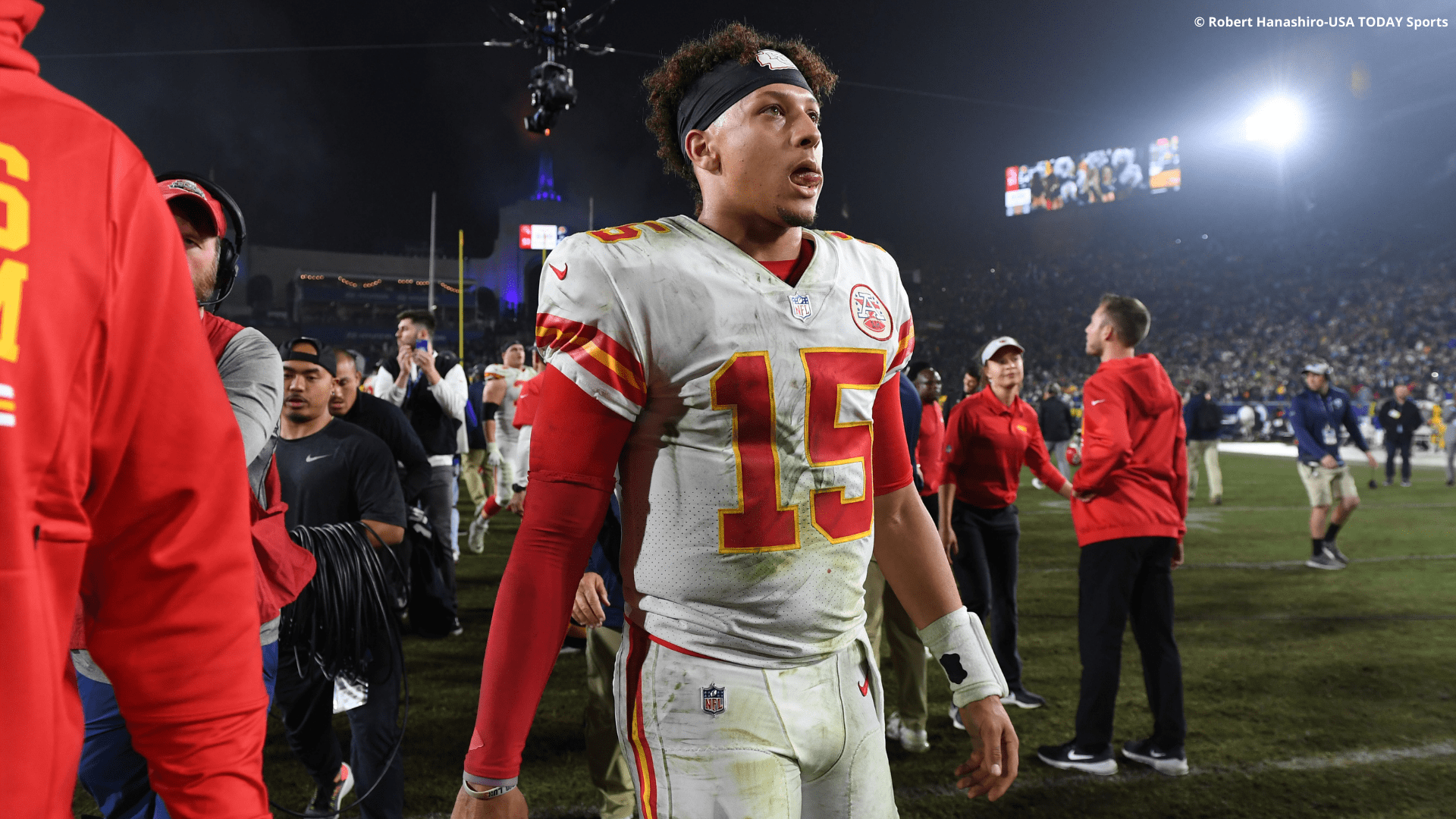 June 1st is on officially here which for us football nuts translates to fantasy season. Yes, we know, we have nothing better to do. So why not start the pre draft process today? Here is MD's Sleeper, Breakout & Bust Episode 1:
Derek Carr: ESPN RANK 113 (Round 9 Pick 4) (QB14)
It's hard to imagine a world in which Derek Carr doesn't improve on his 2021 campaign. He finished top 5 in attempts (626), yards (4804) & air yards (5071) last year. The only other two QB's to accomplish that feat were Justin Herbert (QB2) & Tom Brady (QB3). Despite finishing with compatible #'s to the elite QB's – Carr  struggled mightily in the TD department (23). Expected TD progression plus a retooled WR group make Carr an intriguing late round target. The 8 year veteran posted career numbers without arguably his #1 pass catcher (Darren Waller) for majority of the season. Oh yea, the Raiders also traded for star WR Davante Adams. Add Waller back in the mix + Davante Adams and Carr suddenly becomes a bargain at his ADP. He's being drafted as the QB14 & possess legit top 8 upside. Do your self a favor, wait on QB.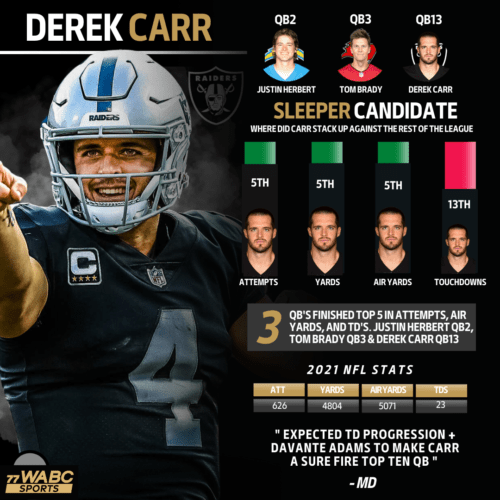 Patrick Mahomes:  ESPN RANK 31 (Round 3 Pick 7)  (QB2)
Hate every bit of it. Nothing against Pat – but losing arguably the best WR in the NFL will hurt immensely. Tyreek Hill finished top 10 in almost every major WR category- Receptions (3rd) Air Yards (3rd) PPG (6) Yards (6th) RZ Targets (6) Targets (7) & TD's (10). KC made sneaky under the radar additions to their WR room (JuJu Smith-Schuster (FA), Marquez Valdez Scantling (FA) & Skyy Morre (Draft) to replace Hill, but none of three quite stack up. With minor expected regression across the board, Mahomes is suicide at ADP (Average Draft Pick) 31. Since 2018 just 1 QB ranked top 3 at the position preseason, finished top 3 (Josh Allen 2021.) He finished 5th in points last year, and it's difficult to envision an increase in production – unless Mahomes take a step forward rushing. Basic math tells you to fade Mahomes.
Gabriel Davis: ESPN RANK 84 (Round 7 Pick 1) (WR32)
When given the opportunity – Davis flourished last year. In weeks 16-18 + Playoffs (2 Games) – Davis averaged 7.4 TPG, 81.2 YPG & 1.2 TD's – which translates to fringe WR1 numbers. Davis was buried on the depth chart behind Emmanuel Sanders & Cole Beasley for majority of the season – but with both now gone – the 3rd year WR will see the field a ton. The departure of Sanders and Beasley free 193 targets – majority of which should be ceased by Davis. The casuals will worry about Jamison Crowder, but the former Jet projects to play the Cole Beasley role, which for the Bills means erratic playing time. Beasley eclipsed a 70% snap share in just 4/15 games. The reasoning – game flow. On the contrary, Emmanuel Sanders surpassed 70% of snaps in 12/14 games. Look for Gabriel Davis to play a similar role as Sanders. Josh Allen finished 2nd amongst QB's in air yards, while Davis, finished 8th in ADOT. Translation: Gave Davis projects as the deep threat on a Josh Allen led offense. Translation: He will shatter his WR32 ranks & is a bargain in Round 7.