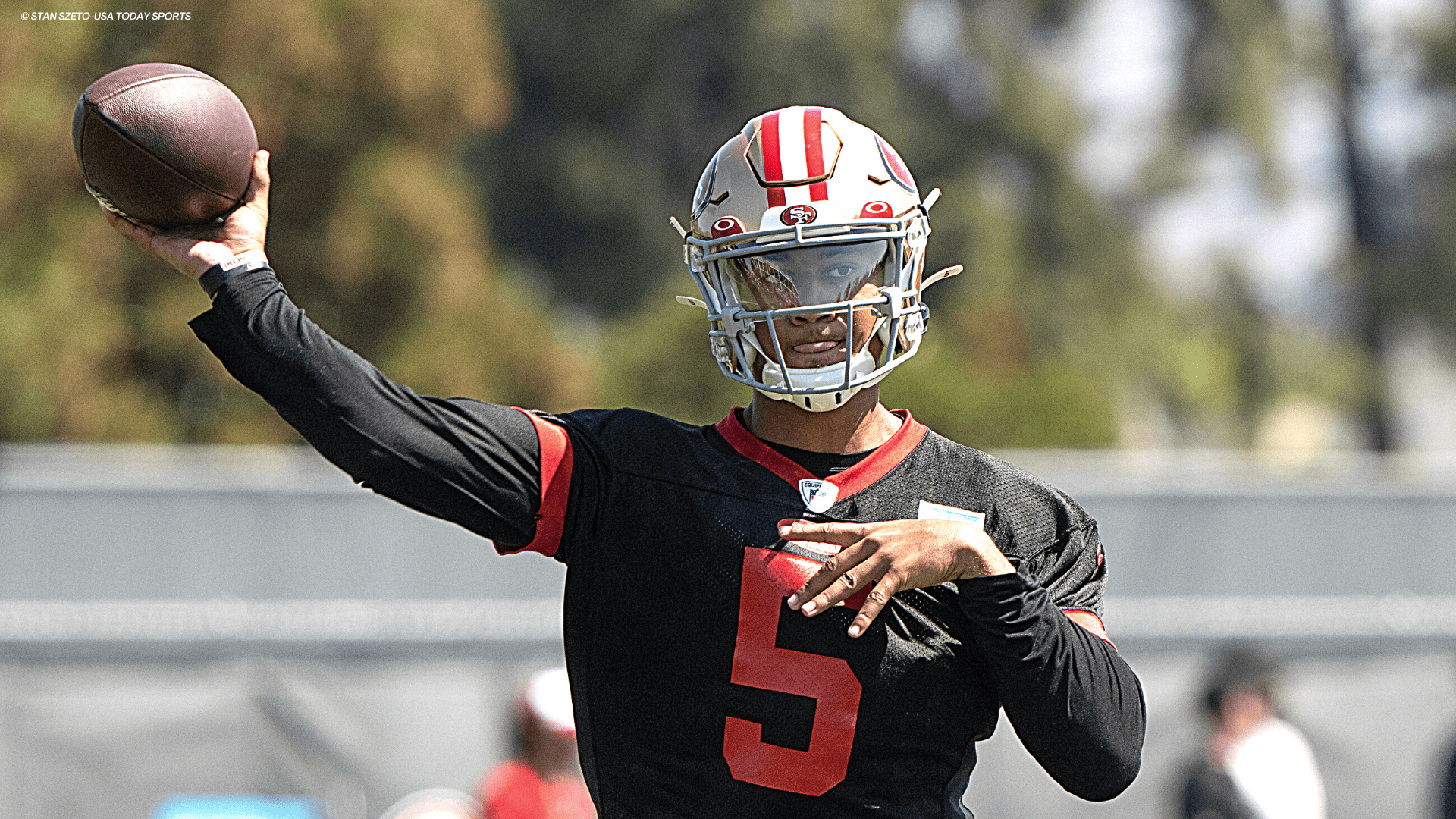 Matthew Stafford: ESPN ADP – QB12
Yes, Stafford isn't a sleeper – BUT – based on ADP he's a bargain. The Super Bowl winner is currently being drafted as the QB12 in Round 9!
Stafford finished 2nd in Pass TD's, 3rd in Pass Yards, 4th in QBR & MOST IMPORTANTLY – 4th in expected PPG. Allen Robinson will fill the void of Robert Woods/Odell Beckham – still cementing the Rams as an elite offense.
Stafford isn't the sexy pick but a safe QB1 to target in the latter rounds.
Trey Lance: ESPN ADP – QB14
It's almost too easy. He's last years Jalen Hurts.
Lance only started two games his rookie season, but showed off his decorated skill set – averaging 22.4 expected fantasy points and 60 rushing yards per game. Albeit in a microscopic sample size, Lance 17 game pace for rush attempts ranked #1 amongst QB's. The 49ers were a dropped interception away from playing in the SB – and decided to change QB's.
Lance has legit top 5 upside playing in a Kyle Shanahan offense. I'll be the Trey Lance guy this year. Book it.
Jameis Winston: ESPN ADP – QB23
Alvin Kamara, Michael Thomas (returned to practice), Jarvis Landry, Chris Olave.
This offense is sneaky loaded.  Remember, Winston finished as the QB1 in 2019 (TB)- and while I'm not banking on a repeat – there is sneaky QB1 upside here. Winston flourished last year as the Saints QB through 7 games – winning 5 – with no Michael Thomas, Jarvis Landry or Chris Olave.
Basic mathematics says Winston will be a top 15 QB.
Daniel Jones: ESPN ADP – QB27
Does ESPN really have the audacity to rank Daniel Jones the 27th best fantasy QB.
It's absurd. I have Jones ranked ten spots higher! Here's my thinking: Brain Daboll (former BUF offensive coordinator) – implements a quasi similar offense that the Bills run. I'm not comparing Daniel Jones to Josh Allen – but there are minor similarities. The #1 being their athleticism. While Jones has been underwhelming as a QB – he's shown flashes as a runner.
Roll the dice on Jones – hoping the Giants (TRY) to use him similar to how the Bills use Josh Allen (Rush Upside.)