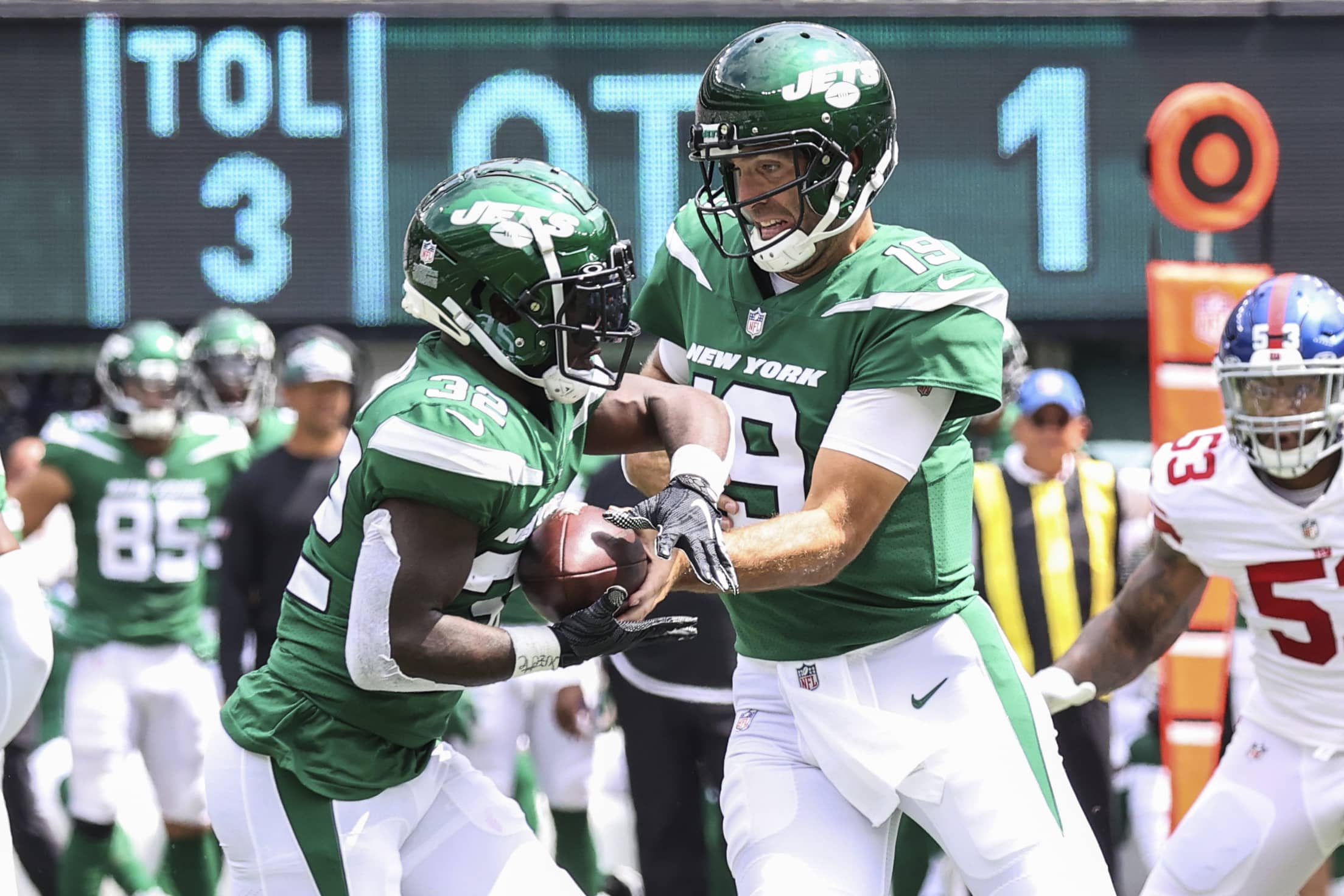 Credit: Wendell Cruz-USA TODAY Sports
NFL: New York Giants at New York Jets
The New York Jets will try to even up their season record against the Cleveland Browns this Sunday in Cleveland. Kickoff is at 1:00 PM as the Jets give quarterback Joe Flacco another crack at it.
While quarterback Joe Flacco did not have the best of games last Sunday in the 24-9 loss to the Baltimore Ravens, it was not entirely on him. The offensive line simply has to be better in this game if they want to beat the Browns. The Browns sacked Carolina Panthers quarterback Baker Mayfield four times last Sunday and two of those four came from Browns defensive end Myles Garrett. 
Rookie right tackle Max Mitchell will have his work cut out for him as he will have to attempt to slow down Myles Garrett. Both Garrett and defensive end Jadeveon Clowney on the other side will both cause major disruption if given the opportunity. Joe Flacco has never been a mobile quarterback and I'm sure the 37 year old veteran doesn't plan on trying to become one now. The edges will have to hold it down for Flacco on Sunday.
Looking at the defensive side of the ball for the Jets, the one strong suit from last Sunday was in fact their run defense. Holding Lamar Jackson and his backfield to a total of 60 yards on 21 carries. They will look to replicate that performance against a stout Cleveland Browns backfield consisting of running backs Nick Chubb and Kareem Hunt.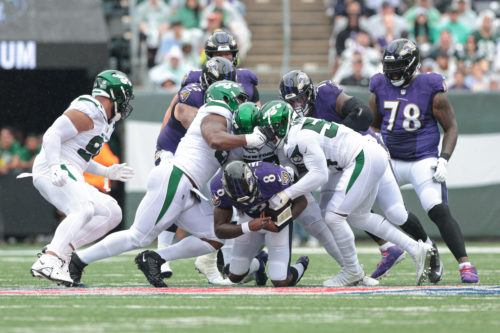 Running back Nick Chubb had a monster game last Sunday, rushing for 141 yards on 22 carries. While Hunt was instrumental in both the run and passing game. He scored a touchdown on a 24 yard dash to the endzone and on a receiving touchdown from two yards out. 
Jets defensive end Carl Lawson told the media on Thursday "It's crazy when you got like in my opinion at least like two top 10 backs in the league. Very hard challenge". 
Containing the Browns rush attack should be priority number one for Jets defensive coordinator Jeff Ulbrich and his defense. They have to force Browns quarterback Jacoby Brissett to try to beat them and not the Browns running back duo. 
"They are both powerful, they are both strong, they are both extremely fast. They got the ability to do the dirty work inside and push the pile and do the hard ball running. They also have the ability to finish runs because they both have explosiveness and top end speed," Ulbrich told the media Thursday. 
The Jets offense needs to get their own running game implemented into the game as early as possible. Running back Michael Carter looked polished last Sunday and while the rookie Breece Hall fumbled in that game, he has a ton of potential. Getting these two guys going early should help Joe Flacco out immensely and in turn, allow the play-action to start to develop. Joe Flacco threw the ball 59 times last Sunday and only mustered up a touchdown with about a minute to go in the game. Pounding the football down the throat of the Browns defense is a must. 
Prediction: 
While Browns quarterback Jacoby Brissett shouldn't scare the Jets defense, his backfield assistance should. The one-two punch of Chubb and Hunt will be riding high off of the way they performed last Sunday and ultimately I think they will be too much to even slow down. As for the Jets offense, Joe Flacco needs to find his rhythm early and utilize his own backfield as much as possible. However, with  left tackle George Fant being listed as questionable to play and a rookie at right tackle,  they still need more time to build chemistry on the offensive line. Myles Garrett and company could end up having a field day. I can see the Browns taking this game by a score of 28 to 10.
Things to Note: 
Quarterback Joe Flacco needs to have at least a decent game otherwise the Jets may want to consider starting Mike White

Safety Jordan Whitehead, left tackle George Fant, punter Braden Mann, wide receiver Braxton Berrios, and defensive lineman John Franklin-Myers are all listed as questionable for Sunday 

Tight end CJ Uzomah was added to the injury list on Thursday and is doubtful for the game